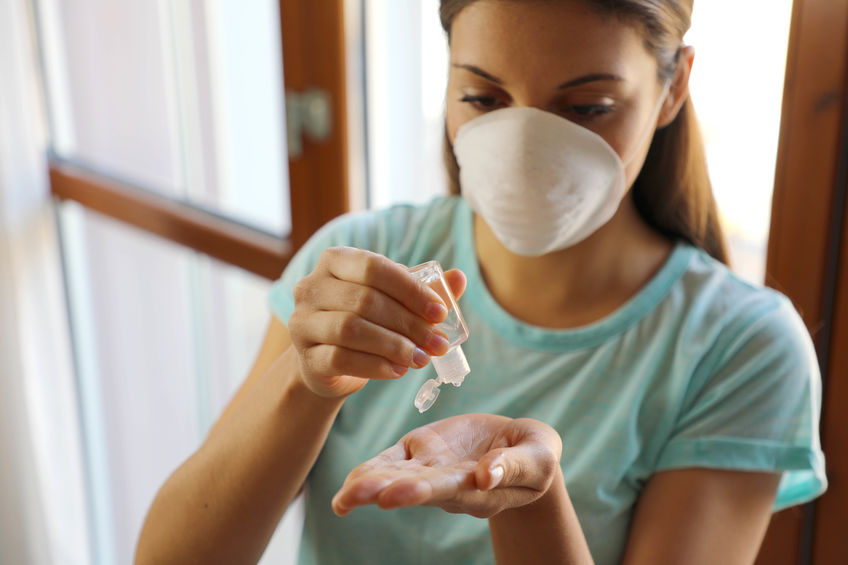 We are all aware of the impact COVID-19 is having on our world today. As a world society, we have a more complete understanding of infection control practices. As health care practitioners, we must continually be diligent and protect both our patients as well as ourselves. Infection control has always been standard practice and primary focus of sleep technicians, along with the comfort of the patient and accuracy of the testing. But during these days of the global pandemic, to prevent spread of Coronavirus from patient to patient or patient to technician, the focus on Infection Control has now become the priority.
Guidelines are in place for consistent and effective hand sanitization of patient and medical staff, disinfection of equipment, beds, bed linens and furniture to prevent the transmission of germs, viruses and anything that would increase cases of infection. In addition, there are some general considerations that should be considered for each sleep facility when making decisions on their current guidelines.
Keep up to date with local, state, federal and current CDC recommendations for healthcare providers. See the CDC's webinar entitled: "Coronavirus Disease 2019 (COVID-19) Update and Infection Prevention and Control Recommendations"or View CDC's "Information for Healthcare Professionals" for up-to-date guidance, and check back often as new guidelines and standards are being added as the situation is continually evolving.
All patients should be screened prior to their appointment, which can include a patient interview by telephone, text or video conference. Screen patients again before entering the facility which can include taking the patient's temperature, as well as assessing their risk factors during in patient registration.
Utilize telemedicine with patients whenever possible, for consultation, reviewing and conveying results, developing a treatment plan and following up on patient's progress.
Ensure that all staff and employees are following current guidelines when in close contact with patients and ensure they have access to personal protective equipment or PPE (gloves, face mask, gown, hand sanitizer) when treating patients.
If any of the facility's staff are exhibiting symptoms of Coronavirus, they should be instructed to stay home until they follow necessary facility-based guidelines, whether that includes COVID-19 testing or a period of isolation, before returning to work.
Ensure all CPAP, HSAT and PSG Equipment is property disinfected according to CDC and manufacturer's guidelines and instruct your patients on how to apply these practices at home:
The decision to cancel all sleep services and testing for an indefinite period should be decided based on several factors: (1) Current CDC recommendations, (2) local and state health authorities, and(3) deciding if the diagnostic testing is considered non-essential based on patient's risk factors.
For those facilities who are continuing to provide service now or for those who have cancelled non-essential testing and want to ensure their Sleep Technicians are properly trained when they resume treatment, Sleepedu.org has provided a course on this very topic, "Infection Control in Sleep Facilities".
If you are a Sleep Technician in the United States or Canada and are in need of required CEU's and wish to review up-to-date practices, consider taking our course entitled Infection Control in Sleep Facilities. Below is a description of the course:
AARC, AAST, BRPT & CSRT Approved CEU Online Course: Infection Control in Sleep Facilities
Our course description: A basic understanding of proper infection control practices is essential in protecting the safety of patients and staff alike. Success or failure depends on the knowledge of good practice as well as the effective implementation of those practices. But it is not enough just to apply good practices. We must also measure either processes and/or outcomes to truly understand whether our plans and the execution of those plans have any merit. Measuring effective outcomes for our patients is an expectation. Staff education coupled with the implementation of good practice and outcomes-based measurement will generate a successful infection prevention and control program. [SEE DISCOUNT BELOW]
The Value of Distance Learning Greatly Increased during the Pandemic
More than ever, services provided online are now the safest administration as there is no person-to-person contact, whether that entails patient consultations, staff meetings, and remote or distance learning.  For over 10 years, Sleepedu and Respiratoryedu has been providing the convenience, money-saving and time-savings of online approved CEU's for Respiratory Therapists and Sleep Technologist in the United States and Canada.
If you are self-isolating or temporarily furloughed due to the COVID-19 crisis, you can make best use of your time by meeting the required CEU credits to maintain licensure in your state with SleepEdu.org and RespiratoryEdu.org's large library of AAST, AARC, CSRT or BRPT online courses. Our online learning system is easy to use, easy to register, available to you 24/7, with access anywhere you have an internet connection. Testing is also online and the certificate will be emailed to you after successful completion of the course, so no need to worry about disinfecting your certificate as we do not mail them out.
We also have several discounted packages available with bundles of related courses with up to a 30% discount off if compared to purchasing the courses separately. Our you can purchase a one-year access to our full library of courses for a discounted price.
For more information about our catalog of course, packages and instructions on how to register, see our websites:
Thank you to all our Healthcare Professionals
The staff at Sleepedu and Respiratoryedu give a big shout of praise to all of our healthcare professionals but especially those who are on the frontlines of treating patients with the COVID-19 virus, including many of our Respiratory Therapists. To show our support in these trying times, we'd like to offer the following:
10% discount on purchase of 2 or more courses
Infection Control in the Sleep Lab course offered FREE if 2 or more courses are purchased
Offer runs through June 1st, 2020.
Use Coupon Code: SPRING20
GET STARTED HERE: DISTANCE LEARNING LOGIN
We cannot express in words the gratitude we feel for those who are putting themselves and their families potentially at risk to treat their patients and in many instances offer live-saving interventions. You are our heros!