Statistics about Time Management
43% of Americans categorize themselves as disorganized, and 21% have missed vital work deadlines. Nearly half say disorganization causes them to work late at least 2 or times each week. (Esselte survey, David Lewis)
20% of the average workday is spent on "crucial" and "important" things, while 80% of the average workday is spent on things that have "little value" or "no value". 78% of workers in America wish they had more time to "smell the roses". (Dr. Donald E. Wetmore)
62% of workers routinely end the day with work-related neck pain, 44% report strained eyes, 38% complain of hand pain, and 34% report difficulty in sleeping due to work-related stress. (Integra Survey, 2000)
Common Time Wasters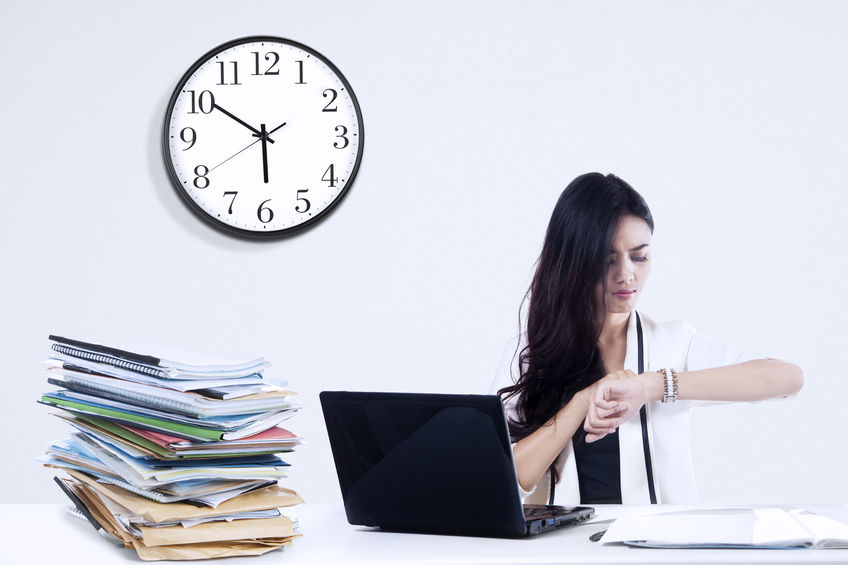 As the above statistics show, many of us are regularly struggling with time management and dealing with the consequences of disorganization and 'time-wasters'. What are the some of these time wasters?
WORK EMAIL: According to its data, which is sourced from a self-reported survey of more than 1,000 white-collar workers in the country, we spend an average of 4.1 hours checking our work email each day. That's 20.5 hours each week, more than 1,000 hours each year, more than 47,000 hours over a career. (Washington Post)
SOCIAL MEDIA: Mediakix calculated average time spent on social media per day on YouTube (40 minutes), Facebook (35), Snapchat (25), Instagram (15) and Twitter (one) and projected those figures out over a lifetime, arriving at a total of five years and four months.
CELL PHONE / TEXTING: The average American adult (18+) spends 2 hours, 51 minutes on their smartphone every day. (comScore's 2017 Cross Platform Future in Focus report)
INTERRUPTIONS: The average work is interrupted 56 times per day, and they spend 2 hours per day recovering from distractions. (Atlassian)
Benefits of Effective Time Management
How can we be more productive at work and at home? How can we reduce stress at work so we can enjoy our time with family more? Can people be happy at work? According to Francis Wade the answer is YES! In the December 20, 2013 publication Productivity, Wade discusses a positive corollary between effective time management and happiness on-the-job.
Even if we think we are performing at our maximum efficiency, we have the ability to improve work-related processes that will result in both improved productivity and personal enjoyment at work. Some benefits of consistent time management strategies include less stress, increased productivity, more free time, less errors, less rework or redoing tasks, improved reputation and more opportunities in your career.
If you're part or leader of an organization or team, make a commitment to implement these strategies organizationally, as you'll see less office conflicts, happier employees, improved interoffice relationships and increased teamwork when everyone is making the best use of their time. When you work as a team, effective time management equates to effective productivity.
Time Management Test
Are you in need of some Time Management strategies? Here's a test … first, take an honest look at your desk, work area, and calendar. Are they cluttered or disorganized? Second, at the end of a week, compare all tasks and appointments written on the calendar for the previous week. How many items were completed successfully and how many were incomplete or not even started? What were you doing instead of accomplishing those tasks? Were you involved in any of the listed 'time-wasters' above?
Make a resolution to make better use of your time at work and at home, but note, it takes commitment and hard work to sustain … and proven, tested instruction. Where can you find an online and affordable course that can also fulfill needed Continuing Education credits?
Managing your Time Online Course (AARC & CSRT approved)
RespiratoryEdu.org offers effective time management training, which is also utilized in meeting organizational and licensure requirements in obtaining CEU's. "Managing Your Time" (CREDIT 1.0) which is AARC and CSRT approved, is only $15.99 currently.
Course Objectives: This presentation will provide the learner with methods to enhance time management, including the rationale for managing personal and work-related time effectively. Strategies discussed will include cost per minute calculations, time-use ratios, effective task selection, personal time requirements, interruption management and office layouts resulting in maximizing efficiencies.
Save time by taking our online course, thus saving you travel time, cost and program fees. For more information, see online courses below: