What is a Respiratory Therapist?
A Respiratory therapist handles the assessment and treatment of patients with both acute and chronic dysfunction of the cardiopulmonary system and must have a vast and expanding knowledge of the cardiopulmonary system, as well as related procedures and technology to properly diagnose and treat patients of all ages.
What are the responsibilities of a Respiratory Therapist?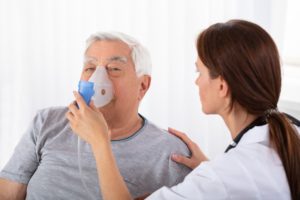 According to the American Association for Respiratory Care (AARC), a day in the life of an RT might include: diagnosing & treating lung and breathing problems; conducting respiratory assessments; consulting with physicians and other members of the health care team; analyzing blood specimens to determine levels of oxygen and other gases; conducting pulmonary function tests; managing ventilators and artificial airway; responding to emergencies;  and educating patients and families about lung disease pathology and treatment.
To provide care to their patients, a respiratory therapist uses various tests (lung capacity, blood gas analysis, etc.) combined with patient interviews, physical examinations and monitoring to diagnose breathing or cardiopulmonary disorders. Working closely with a physician, an RT develops patient treatment plans, trains patients on how to properly use their  medications and equipment, and monitors the patient's progress.
What is the history of the Respiratory Therapy profession?
Starting in 1943, Dr. Edwin R. Levine established a primitive inhalation therapy program with on-the-job training of technicians for post-operation care in Chicago. Just three years later, Dr. Levine's students and associates created the Inhalation Therapy Association (ITA) and in 1950 that the profession was born as it was recognized by a report published by New York Academy of Medicine. In 1973, the professional organization became known as the American Association for Respiratory Therapy (AART), which is now known as the American Association for Respiratory Care (AARC).
What is the mission of the AARC? "The American Association for Respiratory Care (AARC) is the leading national and international professional association for respiratory care. The AARC encourages and promotes professional excellence, advances the science and practice of respiratory care, and serves as an advocate for patients and their families, the public, the profession and the respiratory therapist." – AARC.org
In 1982, President Ronald Reagan proclaimed the first National Respiratory Care Week, which takes place annually on the third week each October.  In 2003, the AARC launched Lung Health Day to promote better lung health to consumers, which now occurs every Wednesday during National Respiratory Care Week.
How is the role of Respiratory Therapists evolving?
With improving and ever-changing technology, health care reform, and an increase in various pulmonary diseases, the role of the Respiratory Therapist is not only changing but becoming more imperative to the health care system. From infant to elderly, patients with various pulmonary impairments need respiratory care – including those with COPD, sleep apnea emphysema, asthma, bronchitis, pneumonia, cardiac failure, chest trauma, lung disease, lung cancer, cystic fibrosis, pleural effusion, breathing disorders and post-surgical related breathing issues.  Because of the ever-growing need, "Respiratory Therapy comes in at #16 in Best Healthcare Jobs of 2018 U.S. News reports.  The same publication in 2017 listed Respiratory Therapy as #21 in The 100 Best Jobs." – MSRCOL.org
Expanded Venues:  Where once RTs were primarily utilized in hospitals (intensive care, operating rooms, emergency rooms, inpatient care), these days respiratory care has expanded to providing diagnosis and treatment in:
asthma and COPD clinics,
pulmonary rehabilitation facilities,
home health care & case management,
durable medical equipment suppliers,
diagnostic laboratories,
sleep laboratories and clinics,
educational venues,
nursing facilities,
smoking cessation programs,
doctors' offices where pulmonary function tests are conducted,
asthma education programs,
air transport and ambulance programs, and
newborn/pediatric care units.
Increase of Pulmonary Disease:  The prevalence of various pulmonary diseases is on the rise. In 2017, "according to the American Lung Association, more than 35 million Americans have a preventable chronic lung disease. Of all lung diseases in the U.S., asthma is most common (25 million), followed by interstitial lung disease (12 million) and chronic obstructive pulmonary disease (COPD; 11 million)."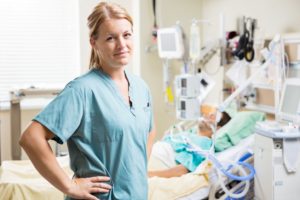 Advances in Technology:  For the nearly 80 years of recognized respiratory care, the advances in pulmonary and respiratory technology have made it possible for patients to be diagnosed more accurately, to treat symptoms and to breathe easier.  It's the responsibility of the Respiratory Therapists not only how to apply high tech medical devices, but to assess patients to determine if the treatments are working property, as well as educate patients on how to use properly.
"RTs are experts in 'high tech' as well as 'high touch' care and we can provide the education and training patients need to stay healthy and out of the hospital." – Chery Hoerr, MBA, RRT, CPFT, FAARC, director of respiratory services, the Sleep Center
Therefore, RTs are required to have continuing education and up-to-date knowledge of respiratory equipment and technology, medication administration, diagnostic techniques, and patient assessment. The most common respiratory equipment includes oxygen cylinders, oxygen concentrators, oxygen tubing and masks, nebulizer machines, suction machines and equipment, CPAP and BIPAP machines, pulse oximeters, aerosol inhalers, humidifiers, ventilators (both institutional and home-use), sleep testing units and more.
Health Insurance Reform:  Another factor in the changing role of all medical professionals is the changing costs, coverage, goals and legislation of the health care and health insurance industry. Health care and insurance reforms in the past decade have driven objectives of patient care from expensive inpatient care to less costly preventative care in less expensive venues. Thus the support for the increased demand for Respiratory Therapists in non-traditional settings such as home care, smaller clinics, senior care facilities and diagnostic labs.
"Affordable Care Act initiatives and other factors are quickly transforming the American health care system into one aimed at preventing disease and managing chronic conditions, and that means clinicians like RTs are going to have to step outside of their comfort zones." – AARC.org
Respiratory Therapists – A Matter of Life and Breath
A respiratory therapist has a very critical job to do as the importance of strengthening a patient's breathing ability and returning it back to a healthy condition cannot be overstated.
NEW Course:  "The Respiratory Therapist – An Evolution to Today's Professional"
RespiratoryEdu.org not only values the role of the Respiratory Therapist but we value the care they provide for patients in need; thus, we understand the evolving role of RTs in the last century.  We are dedicated to meeting the educational needs for professionals in the respiratory care industry so they can keep up with the changing needs and technology in the respiratory field.
Our efforts are managed by Sleep Education Partners with expertise in sleep medicine, respiratory medicine, critical care medicine, leadership & management, accreditation, IT and marketing and sales. RespiratoryEdu.org online courses are approved for continuing education for Respiratory Therapists, by the AARC (American Association for Respiratory Care) for CRCE credits (respiratory care) and by the CSRT (The Canadian Society of Respiratory Therapists) for CPD credits (respiratory therapy – Canada). Additionally, those therapists working and credentialed in sleep medicine may also access courses specifically approved by BRPT and AAST.
In that regard, we have added a new course, The Respiratory Therapist – An Evolution to Today's Professional. 
Course description: Respiratory therapists provide professional and needed services in all phases of health care. This course provides the learner with an understanding of the various services provided by these individuals, the areas of health care where they are provided, and most importantly, financial recognition of the profession.
Course Objectives:
Describe and define respiratory therapy.
Describe the role of the respiratory therapist in health care.
Describe the scope of practice for the respiratory therapist.
Understand how RT professionalism and reimbursement are often mismatched.
Online Course Enrollment:
1.0 Credit Hour