Telemedicine has gained significant popularity and acceptance in various medical specialties, including sleep medicine. Below are some examples of its use:
ADVANTAGES
Remote Consultations: Telemedicine allows patients to have virtual consultations with sleep medicine specialists from the comfort of their own homes. Through video conferencing or telephonic communication, patients can discuss their symptoms, medical history, and concerns with the sleep specialist. The specialist can then provide guidance, ask relevant questions, and make preliminary assessments to determine the appropriate next steps.
Diagnosis and Assessment: Sleep medicine often requires objective data to diagnose sleep disorders accurately. While in-person visits are usually preferable, many can be safely conducted remotely. For example, patients can use portable sleep monitoring devices that track sleep patterns, breathing, and other relevant data. They can then transmit the collected information to their sleep specialists for analysis and interpretation. Based on these findings, the specialist can diagnose sleep disorders and recommend and/or modify treatment plans.
Follow-up and Monitoring: Telemedicine allows for regular follow-up appointments and ongoing monitoring of patients' progress. Patients can discuss the effectiveness of their treatment plans, report any new symptoms or concerns, and receive necessary adjustments to their care remotely. This approach reduces the need for frequent in-person visits and provides convenient and timely care.
Patient Education: Sleep medicine often involves educating patients about sleep hygiene, lifestyle modifications, and treatment options. Telemedicine platforms can be used to deliver educational materials, videos, and resources to patients, empowering them to actively participate in their care and make informed decisions about their sleep health.
Access to Specialized Care: Telemedicine has the potential to bridge the gap between patients and sleep medicine specialists, especially in areas with limited access to healthcare facilities or shortages of sleep medicine experts. This is especially useful with patients who reside in rural or remote areas. They can connect with sleep specialists located elsewhere, expanding their access to specialized care.
Cost and Time Efficiency: Telemedicine can save patients time and money by eliminating the need for travel and reducing the associated costs. It also minimizes waiting times, as appointments can be scheduled with more flexibility and efficiency.
LIMITATIONS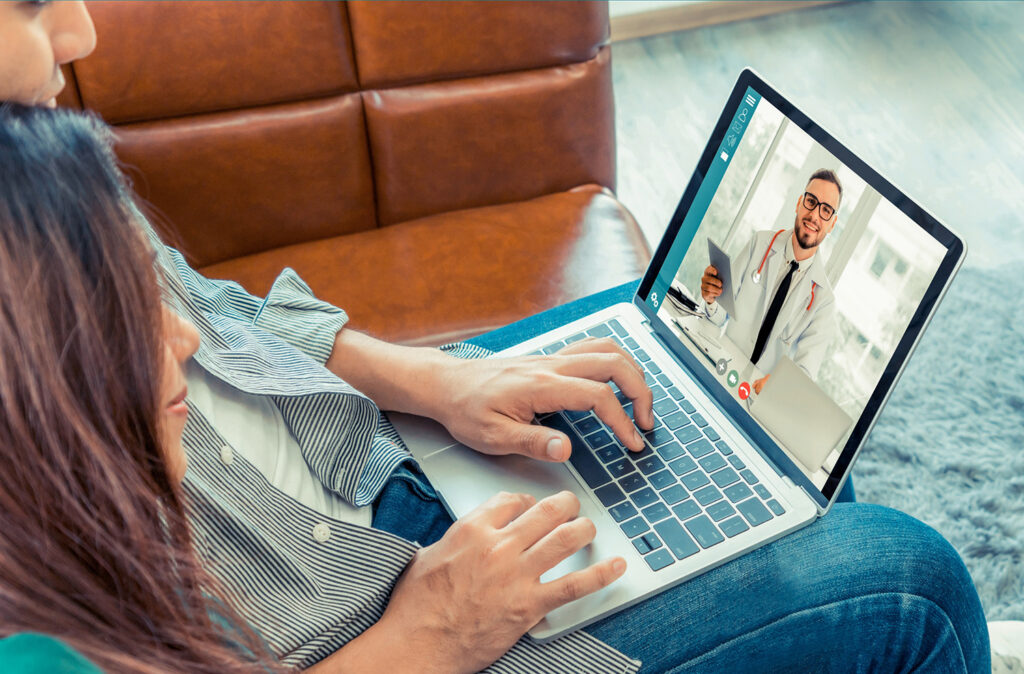 While telemedicine offers numerous benefits, there are also some potential disadvantages when it comes to sleep medicine. Here are a few drawbacks to consider:
Limited physical examination: One of the primary challenges in sleep medicine telemedicine is the inability to conduct a comprehensive physical examination. Certain sleep disorders may require physical assessments, such as palpating the throat or examining the airway, which cannot be accomplished remotely. Without a hands-on examination, the accuracy of diagnosis and treatment may be compromised.
Limited access to diagnostic tests: Many sleep disorders require polysomnography, which typically involves monitoring brain activity, eye movements, heart rate, and other physiological parameters overnight. While certain home sleep testing devices exist, they may not be as comprehensive as in-lab studies. Access to these diagnostic tests may be limited in a telemedicine setting, potentially hindering accurate diagnosis and treatment planning.
Technological limitations: Telemedicine relies on stable internet connections and appropriate technology, including video conferencing platforms, digital devices, and software applications. Technical difficulties can arise, such as connectivity issues, poor audio or video quality, or software glitches. These challenges can disrupt the flow of a telemedicine consultation and impact the overall quality of care.
Limited treatment options: Sleep medicine often involves a range of treatment options, including medications, lifestyle modifications, and behavioral therapies. While some aspects of treatment can be delivered remotely, such as providing advice on sleep hygiene or prescribing medications, other treatments may require in-person interventions, such as CPAP titration or cognitive-behavioral therapy for insomnia (CBT-I). These limitations can restrict the scope of treatment available through telemedicine.
Lack of access for certain populations: Telemedicine relies heavily on digital technology and internet access. However, not everyone has equal access to these resources, particularly in rural or underserved areas. This can create disparities in healthcare access, preventing some individuals from benefiting from sleep medicine telemedicine services.
SUMMARY
It's important to note that the effectiveness and limitations of telemedicine in sleep medicine can vary depending on the specific sleep disorder, the patient's condition, and the telemedicine infrastructure available. Telemedicine is a valuable tool in sleep medicine, but it may not fully replace in-person consultations and examinations in certain cases. Overall, telemedicine offers numerous benefits in sleep medicine, improving access to care, facilitating diagnosis and treatment, enhancing patient convenience, and optimizing patient outcomes.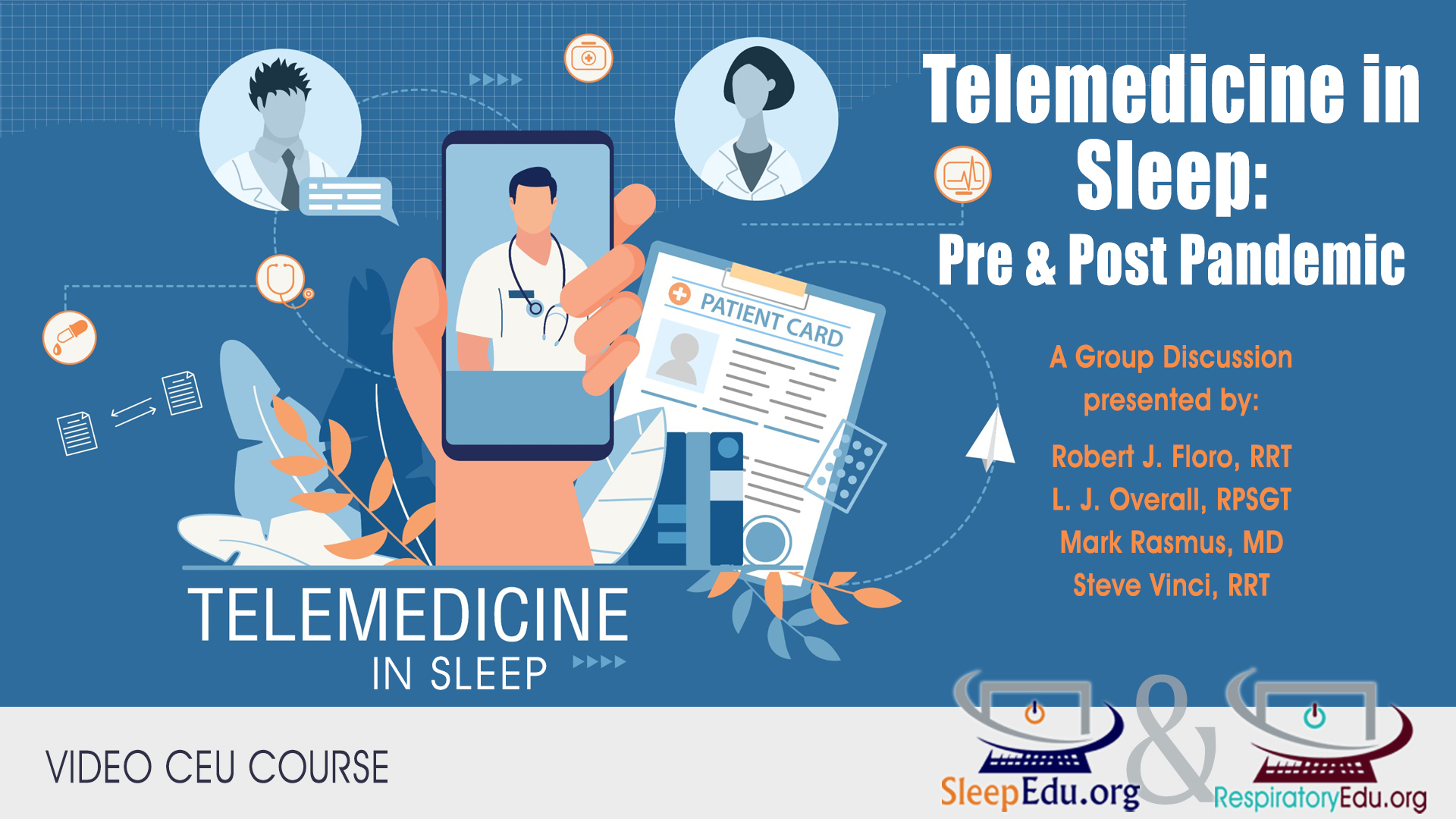 NEW COURSE AVAILABLE NOW …. "Telemedicine in Sleep: Pre and Post Pandemic"
Sleepedu.org added new course on telemedicine in July 2023. The course evaluates how one sleep practice has transitioned its use of telemedicine since the onset of the recent pandemic. This single organization offers all 3 phases of sleep medicine: the physician's practice, the sleep lab and the DME provider.
*Courses can be accessed at www.sleepedu.org.
References
Kuo T, Kim M, Wang JC, et al. Telemedicine in Sleep Medicine. Sleep Med Clin. 2020;15(2):257-272. doi:10.1016/j.jsmc.2020.01.003
Collop NA, Varga AW, Schotland HM. Telemedicine and Sleep Medicine. Sleep Med Clin. 2017;12(1):1-14. doi:10.1016/j.jsmc.2016.10.006
Arora VM, Machado N. The Future of Sleep Medicine and Telemedicine. Sleep Med Clin. 2019;14(4):405-414. doi:10.1016/j.jsmc.2019.06.006
Kuna ST, Redeker NS. Telehealth for Sleep-Disordered Breathing. Sleep Med Clin. 2016;11(2):291-298. doi:10.1016/j.jsmc.2016.02.003
Gruwez A, Buyse B, Testelmans D, Buyse G. Telemedicine for the Diagnosis and Management of Sleep-Related Breathing Disorders: A Review. Sleep Med Rev. 2017;34:1-9. doi:10.1016/j.smrv.2016.06.005
Aurora RN, Kristo DA, Bista SR, et al. The treatment of restless legs syndrome and periodic limb movement disorder in adults-an update for 2012: practice parameters with an evidence-based systematic review and meta-analyses: an American Academy of Sleep Medicine Clinical Practice Guideline. Sleep. 2012;35(8):1039-1062. doi:10.5665/sleep.1988
Rose AC, Garg R, Ye L, et al. Telemedicine Management of Sleep Apnea in Veterans. Chest. 2018;154(6):1400-1408. doi:10.1016/j.chest.2018.07.031