Trisomy 21 (Down Syndrome) is a genetic disorder caused by the presence of an extra copy of chromosome 21. This condition leads to various physical and cognitive developmental challenges. Individuals with Down syndrome are generally at an increased risk for developing obstructive sleep apnea (OSA).
Obstructive sleep apnea is a sleep disorder characterized by repeated interruptions in breathing during sleep due to a partial or complete blockage of the upper airway. This blockage can lead to reduced oxygen levels in the blood and fragmented sleep, resulting in numerous health problems. According to Johns Hopkins,[i] those problems may include cardiovascular changes, daytime somnolence, work and vehicle-related accidents, dry mouth, mood swings and low oxygen levels.
Key Elements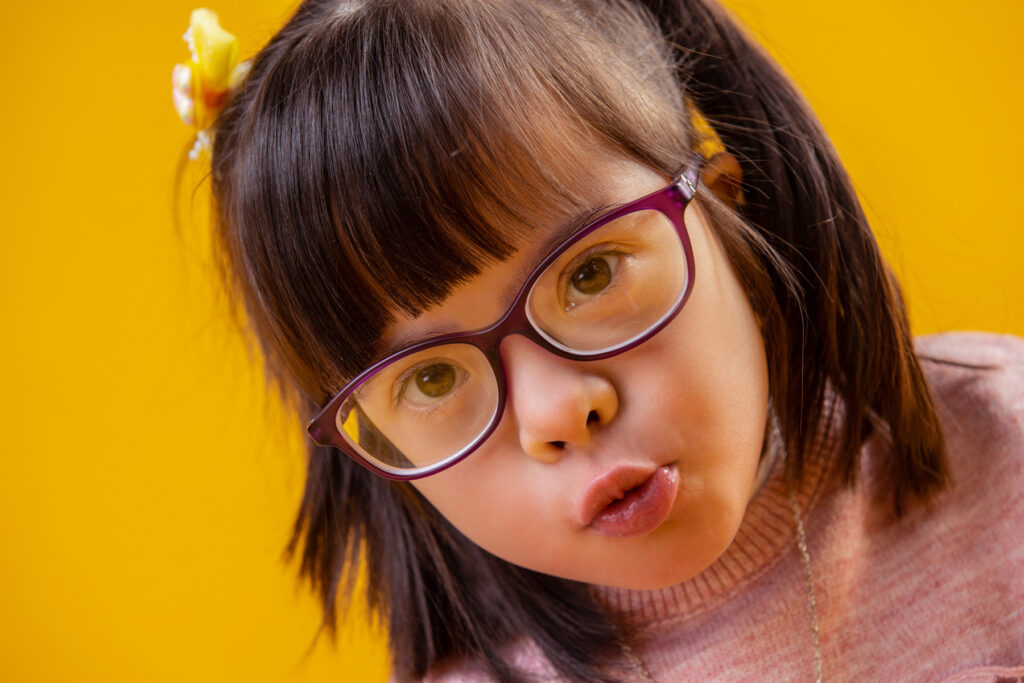 Below are some key elements in the relationship between Down syndrome and obstructive sleep apnea:
Anatomy and Physiology: Individuals with Down syndrome often have certain physical characteristics that can contribute to obstructive sleep apnea. These include a smaller oral cavity, larger tongue, and a relatively narrower airway. These factors contribute to airway blockage during sleep.
Muscle Tone: Hypotonia, or low muscle tone, is a common feature of Down syndrome. Weakness in the muscles that help keep the airway open during sleep can contribute to the collapse of the airway, leading to increased episodes of sleep apnea.
Enlarged Tonsils and Adenoids: Many individuals with Down syndrome have enlarged tonsils and adenoids, which can further obstruct the airway during sleep and contribute to sleep apnea.
Risk Factors: The combination of anatomical features, muscle tone issues, and enlarged tonsils and adenoids increases the risk of obstructive sleep apnea in individuals with Down syndrome.
Symptoms
Symptoms of obstructive sleep apnea in individuals with Down syndrome can include loud snoring, excessive daytime sleepiness, restless sleep, difficulty concentrating, mood changes, and behavior problems.
Diagnosis
Diagnosing obstructive sleep apnea in individuals with Down syndrome incorporates a combination of:
Clinical evaluation
Polysomnography – either HST (home sleep study) or lab-based PSG (polysomnography
Symptom monitoring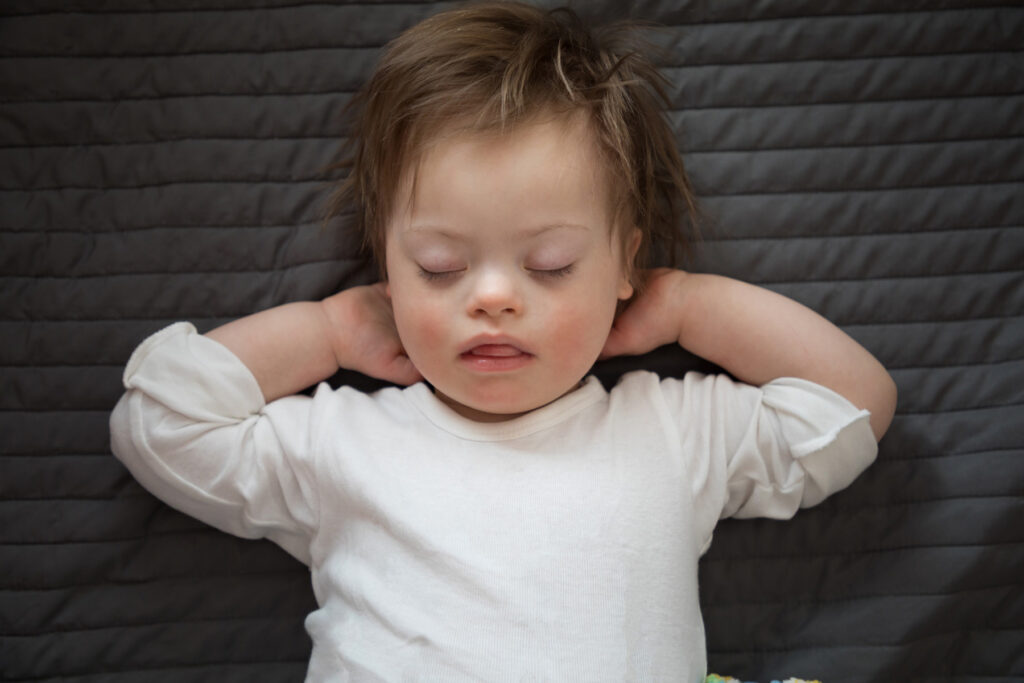 Treatment
The treatment for obstructive sleep apnea in individuals with Down syndrome can vary. It might involve:
Lifestyle changes (such as weight management)
Positional therapy – The prevention of patients from lying in a supine position. Positional therapy and promotes side sleeping. There are devices available, including lumbar or abdominal binders, backpacks, full-length pillows, tennis balls attached to the back of nightwear, and alarms with positional sensors.
Positive airway pressure (PAP) therapy
Surgical interventions (e.g., removal of tonsils and adenoids).
Issues If Untreated
Untreated obstructive sleep apnea can have serious consequences for individuals with Down syndrome, including impaired cognitive development, learning difficulties, behavioral issues, cardiovascular problems, and poor overall quality of life.
It's crucial for individuals with Down syndrome to receive regular medical care and screenings, including evaluations for sleep-related such as obstructive sleep apnea. Early diagnosis and appropriate management will help improve their quality of life and reduce the potential health risks associated with both Down syndrome and obstructive sleep apnea.
---
Footnotes
[i] https://www.hopkinsmedicine.org/health/wellness-and-prevention/the-dangers-of-uncontrolled-sleep-apnea