With the arrival of the new year, each department manager or director usually takes time to review annual budgets, department efficiency, processes, schedules and time management, as well as their team's success and performance. For those in the medical industry, continuing education is a necessary and essential aspect of your career as well as of your employees. If you're in the Sleep or Respiratory Medicine fields, you may realize that the scheduling of continuing education workshops for you and your staff can in itself be overwhelming, not to mention the costs of registration and travel arrangements, as well as the lost revenue while employees are away from patients and administrative duties. How can you motivate your employees to keep up on their CEU requirements and how can you make their CEU fulfillment easier?
How to Make Continuing Education a Priority for your Team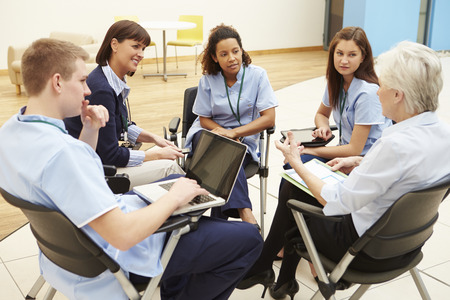 Build a culture of Continuing Education from Day One. In the first few months of a new job, employees are focused on making a good impression. Utilize that time to instill a culture of learning and professional development as not only a requirement, but a priority in your organization's mission and policies. Reward those who accomplish their CEU goals with praise, positive reviews and opportunities for professional growth. Ensure your team understands these rewards from day one.
Streamline access. In this days of high-speed internet access, smartphones, tablets and laptops, online courses are available virtually anywhere you are. Instead of traditional classroom courses that may require costly and timely travel, offer your employees the option of online continuing education units. As a result, you'll provide one of the best ways to keep your team learning as well as ensuring their access to required CEUs is simple and straightforward. At SleepEdu.org, our courses are available when or where you need them, as long as you have an internet connection.
Offer Specific Development Opportunities: There are specific course topics for respiratory therapists and sleep technicians (often overlapping), that your team will find beneficial in accomplishing their patient care. Each year, there is a need to educate your team on new or developing treatments, technologies, symptoms and related diagnoses that affect sleep and respiratory health. We have over 65 courses specifically designed for the sleep and respiratory care industries, and adding more each month.
Choose Certified and Approved Courses: When there is trust and credibility associated with the specific course or instructor, students feel more inclined to engage with the material and be motivated to apply what they learn. All of our course library is approved by either the American Association for Respiratory Care (AARC), the American Society of Sleep Technologists (AAST), the Board of Polysomnographic Technicans (BRPT), or the Canadian Society Of Respiratory Therapists (CSRT) – and many courses are approved by all four organizations. Our courses specialize in the sleep and respiratory care industries, because all of our courses are written by Sleep Medicine and Respiratory Care Industry Leaders. And all our courses are peer and/or physician reviewed.
Be motivated by a Reduction in your CEU budget. As managers, cost is always a consideration especially if you oversee a large department of therapists and technologists, so if your facility or organization funds all or part of your employees' continuing education, SleepEdu.org will provide substantial savings in your annual budget. Additionally, our courses cost $16 each if you buy individually, compared to average costs of several hundred dollars for Continuing Education workshops or classes. We also offer discount packages and group discounts. We currently have partnership agreements with California Society of Respiratory Care and Kentucky Sleep Society, both of which lead to significant discounts to their members. If your organization, facility or company wants more information about group discounts, please contact us.
Share your growth & support theirs. Teach by example, as they say. A great way to motivate your staff to keep up with their CEU requirements, is to do so yourself and share what you have learned with others. Whether this means discussing resources and theories you have learned individually or by setting aside time in team meetings to relate and share experiences about you or your team members' professional development. Encourage your team to share what they know and what they're learning with one another.
Continuing education is required for those in the Sleep and Respiratory Care industries to stay current with the latest developments, skills, and new technologies required for their fields, but it also improves patient care, challenges your team with new skillsets, as well as improves on-the-job discipline and confidence. For more information about our courses, learn more about SleepEdu.org.